Finding the Right Direct Contact Water Heaters for Your Site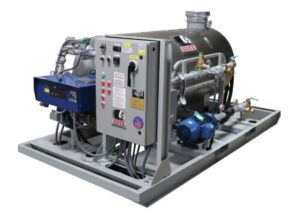 Could direct contact water heaters help you streamline operations in your facility? When your business depends on the regulation of concrete's temperature, there is no time to wait around for concrete plant water heaters to work.
When you and your team make the switch from a traditional steam boiler to a direct contact water heater, you can maximize operational efficiency and reduce your company's impact on the environment. Partnering with experts to choose a piece by compatibility with your facility can help you and your team maximize space and ensure fast curing.
For more than four decades, R.W. Martin Company of Kent, Ohio has been a go-to resource for industrial laundry and process water solutions. Along with direct contact water heaters, R.W. Martin Company carries a full selection of industrial washers, dryers, conveyors, compressors, folders, heat exchangers and other textile care solutions. With this in mind, you can learn more about the R.W. Martin Company team and its work by visiting the company website.
Implementing Direct Contact Water Heaters for More Sustainable Operations
To maintain productivity in a concrete plant during the cooler seasons, keeping concrete at a specific temperature is critical; having a reliable water heating system can ensure that concrete is easy to work with. Where conventional steam boilers may have limited you and your team, a direct contact water heater can improve output and help you maintain more consistent aggregate quality.
What is a direct contact water heater? This type of heater allows flue gases to come into direct contact with water, rather than using heat exchangers for indirect heating. A direct contact water heater incorporates a burner that applies heat directly to a cold water flow. As the water moves down, thermal energy rises to facilitate nearly full use of the heat. This type of unit is especially reactive to changes in need for hot water.
Along with other operational changes, making the switch to direct contact water heaters can help you and your colleagues run a more environmentally friendly facility. A direct contact water heater keeps carbon oxide emissions to a minimum while offering high levels of combustion efficiency and reducing a company's energy costs. This type of heater gets every British thermal unit (BTU) out of the combustion process to keep this balance.
A direct contact water heater functions at atmospheric pressure, and eliminates the need for a pressure vessel, as a result. This can take away some of the burdens of complying with certain codes.
With a continuous water flow over all heat exchange surfaces, a direct contact water heater minimizes the accumulation of hard-water scale. Over the entire heating process, the softness or hardness of water remains constant.
Using Aggregate Heating Solutions From Sioux to Keep Concrete in Spec
Sioux is a leading manufacturer of heating equipment for precast and ready-mixed concrete, and the professionals from R.W. Martin Company take great pride in offering a complete selection of Sioux products. For more than five decades, teams have trusted Sioux installations for the reliable heating of water for concrete applications. When you need fast turnaround, minimal chemical usage, exceptional finishing and superior float, a Sioux water heater is the right choice for your space.
The product line offers the highest efficiency ratings available along with precise temperature control. Using Sioux concrete plant water heaters can help you and your team maintain a more sustainable facility without sacrificing efficiency. These pieces are easy to use and offer years of efficient operation.
Do you and your team need to find the right heater for precast concrete? A Sioux heater for precast concrete is ideal for consistently producing hot water at low volumes. Adding a heater from Sioux to your space can provide a more efficient replacement for a boiler with prestress, pipe, vault or block operations.
Choose from a variety of options to fit your needs and your space. For example, the company's PWP-1 system incorporates a 1 million BTU/H water heater, a pumping station and a 300-gallon mild steel water tank. The system's pumping station incorporates two separate pumps for water circulation and the removal of used water from the installation.
A Sioux water heater distinguishes itself from competing installations by incorporating a motorized damper, a liquid level sight gauge, liquid level sensors with water solenoid valves and an adjustable tank temperature control and thermometer. Heaters from Sioux are also National Board-registered and compliant with ASME code. In addition, these pieces mount on steel skids to allow for optimal portability.
When you need reliable heating for ready-mixed concrete, you and your team can count on Sioux for your ideal solution. Sioux's heaters for ready-mixed concrete are easily customizable.
In fact, customers can choose from a full selection of oil, LP or natural gas-fired installations along with combustion burners to make the transition from oil to gas significantly easier. The company's M Series modular water heaters, in particular, allow teams to expand a hot water system as business changes at a competitive starting price.
Reach Out to the Team from R.W. Martin Company Today
Whether your next facility upgrade requires reliable concrete plant water heaters, industrial mezzanines, process water equipment or other solutions, you can count on the team from R.W. Martin Company to help you make the change.
While every facility is different, every facility needs reliable equipment. For this reason, the professionals from R. W. Martin Company offer a machinery inventory and a selection of services to fit nearly any project goal. When you need to keep your facility's hot water or laundry system running for maximum efficiency and safety, R.W. Martin Company has the machinery and the expertise to help.
Teams count on R.W. Martin Company for the purchase and sale of both new and used equipment, an extensive selection of replacement parts, reliable service of industrial laundry equipment, premier design capabilities and free evaluations.
Need to reach out to the team from R.W. Martin Company or view a full product inventory? Visit https://www.rwmartin.com/ today to find out more and take the next steps.