Copperloy Cargo Ramps
Efficiency is one of the most important aspects of any freight-loading operation. Productivity and efficiency rely heavily upon the quality of the equipment in use. Cargo ramps and yard ramps need to provide safe and easy access to trucks, loading docks, and other platforms. Without safety and functionality, cargo ramps cause more problems than they solve. Furthermore, these ramps will likely be subjected to extreme stress during the average workday; thus, durability, safety, and functionality are paramount. Copperloy's cargo ramps are among the best in the industry, offering strength and longevity for any loading operation. These ramps can significantly improve efficiency and productivity, as they are easy to implement and operate.
Copperloy cargo ramps offer unparalleled durability. Copperloy has been enhancing the designs of their dock equipment for sixty years. Their dedication to quality has crafted some of the most reliable pieces of dock equipment in the United States. These ramps can easily handle the tremendous pressure of a long workday, functioning as an invaluable tool for any facility. Copperloy also offers different types of cargo ramps for specific applications.
Copperloy's twin lock cargo ramps are highly adaptable and versatile. These aluminum ramps can handle weights of 6,000 to 7,500 pounds with a fixed width of 19″ and a locked width of 38″. Below is a list of standard lengths for the cargo ramps:
10-foot: Designed for heights from 20 to 28 inches
12-foot: Designed for heights from 25 to 34 inches
14-foot: Designed for heights from 29 to 40 inches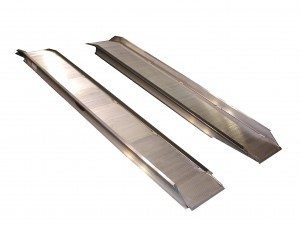 These aluminum stage ramps are perfect for theater and concert venues. High safety and durability provide smooth loading and unloading for equipment. Whether it's lighting, sound, or music equipment, setting up a show has never been easier.
Copperloy has been working with concert halls, theaters, stadiums, and production businesses for years. They keep coming back for reliable, American-made equipment.
Copperloy's van cargo ramps are comprised of heavy-duty metal for durability and longevity. These ramps are easy to use and are designed for loading at a 15-degree angle for optimal safety and utility. The following is a list of Copperloy van cargo ramp features:
3″ run-off curbs
12″ lip
Non-slip shark tooth decking
Capacities from 2,500 to 4,000 pounds
Widths from 38″-44″
Lengths from 6′-16′
Copperloy also offers options for custom specifications!
Cargo Ramps | Copperloy | Imgon Design
With the rise of technology, digital marketing is now an integral part of any growing, successful business. Businesses that do not capitalize on the use of technology are missing many opportunities for exposure and growth. Imgon Design is a digital marketing firm working with small to mid-size businesses in Ohio. We work closely with our clients to identify their marketing potential and use it to their benefit. Copperloy is a valued client of Imgon Design receiving many advantages through our digital marketing and SEO service packages. We design our service to provide visibility on Google Search results and vitalize activity on social media platforms such as Facebook, Twitter, Pinterest, and more! With Imgon Design, Ohio businesses can take full advantage of digital marketing.
If you are looking for cargo ramps or other dock equipment, check out Copperloy's products. Learn more about Copperloy on the Imgon Design Blog or visit their website. Copperloy home of the Ultimate Yard Ramp!