Glass Staircase | Is it Safe to Walk On?
Everything You Need to Know about Glass Staircases
You may have seen eye popping staircases in recent years. A glass staircase is a great design choice for a new building, or even as  an upgrade over your current stairs. Custom layouts, design flexibility, and even a money saving future are attainable with a glass staircase.
A glass staircase will illuminate your space in so many ways. Let's explore some of the main reasons why.
Improve Your Space with a Glass Staircase
If the idea of having a glass staircase has drawn some intrigue, here are a few benefits  of glass staircases that you should know about.
Design of Custom Glass Stairs
When it comes to the look of your glass staircase, there are a range of options to choose from. The low iron glass brings a completely clear look, while standard glass t contains a green or blue hue. You can apply colored or clear interlayers to add additional style. Silk screening or digital printing can also be added to your glass, if you want a truly unique aspect to your glass staircase.
The level of transparency can be adjusted, whether you want to give the look of walking on air or you want extra privacy , these designs can be accommodated.
For a company building, your logo can even be printed into the panels as a way to elevate and customize your business.
Use
For the use of these stairs, the most obvious answer is that they are essential for transportation. However, with a custom glass staircase, you can also use these stairs for illumination. In fact, a glass staircase will save you money as  you won't have to light as much of your space as if you had traditional stairs.
Features
There are slip resistant options available to make your staircase as safe as possible for any conditions. Three anti-slip qualities are: acid etched walker textures, traction control ceramic frits, or sandblasting.
Cleaning
To really maximize the features of a glass staircase, it is important to maintain the glass stair panels as clean as possible. High quality aluminum grids for your stairs have various options to resist dirt to make cleaning as easy as possible.
When you are cleaning your staircase, be gentle with your glass stair panels and aluminum grid. Most streaks or stains on panels can be removed with water and a soft cloth, and if this doesn't get everything, try a mixture of water and isopropyl alcohol. Avoid using too much force when wiping to prevent damage. If you vacuum your stairs, be sure it has a smooth bottom.
For the aluminum grid, use water and a cloth, and for an extra thorough clean you can use detergent soap. Regular maintenance and cleaning will preserve your stairs' visual appeal and strength for the future.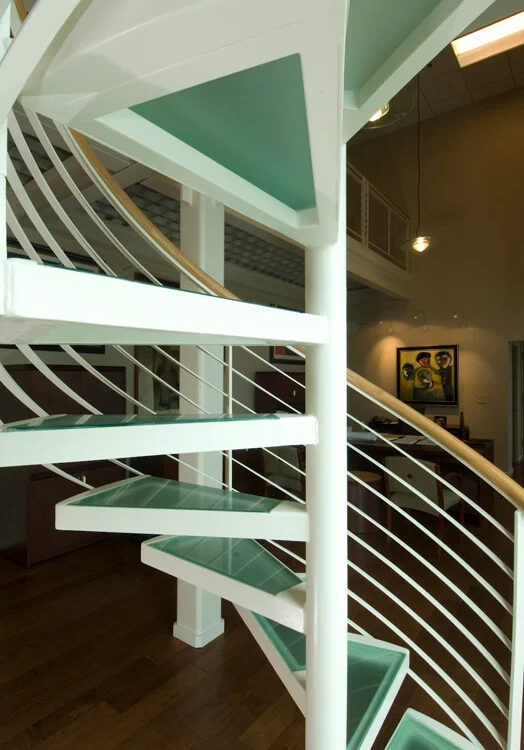 Engineering
The framework of a glass staircase is both lightweight and very strong. Glass stair treads can hold 125 lbs per square feet, so you won't have any concerns about structural integrity. The framework of your staircase can be customized to fit any shape you desire. The glass stair treads ensure the ability to withstand heavy traffic and promise longevity of your staircase.
Glass Staircase Installation
For the installation process of custom glass staircases, it is best to count on an expert to ensure maximum safety and precision. If you have the capability of installing it yourself, a provider of the glass supplies will bring you all of the staircase glass design and specifications necessary to make the process run smoothly.
With all that we covered about custom glass staircases, it is time for the decision. Should you buy a glass staircase?