Stainless Steel Safety Wire | Metal Wire Supplier
If you are searching for reliable stainless steel safety wire products for your next project, look no further than Malin Co. Malin Co. is a leading supplier of stainless steel safety wire and other wire products. So, they have the tools and experience necessary for creating the best steel wire solutions. In fact, Malin offers a full catalog of quality wire products including fishing wire, flat wire, tie wire, craft wire, camping wire, lock wire, military wire, wire brushes, and more!
As a leading supplier of stainless steel wire, Malin Co. has unmatched experience in the manufacturing of lock wire and safety wire products. Safety wire is an exceptionally versatile tool for a wide variety of applications and industries. Screws, nuts, and bolts will loosen over time regardless of how tightly they are installed. Therefore, safety wire functions as a means of keeping the loosening from occurring.
As a result, stainless steel safety wire reduces maintenance needs substantially while preventing dangerous equipment failures. Thus, safety and lock wire are necessities in keeping employees and equipment operators are safe at work in industrial environments.
When you choose Malin Co., you will receive the highest quality stainless steel safety wire products in the industry with excellent durability and a wide range of effective storage options. In fact, Malin's high-density polyethylene canisters will protect your wire from grease, corrosion, and degradation. The canisters are also color-coded for different types of wire. So, finding the wire you need for each task is quick and easy.
Furthermore, Malin Co. offers a wide range of wire sizes, so you can find the perfect safety wire solutions for your application.
Learn more about stainless steel safety wire.
What is stainless steel safety wire?
Stainless Steel safety wire, also known as lockwire, is a form of a secure locking device that prevents fasteners from loosening or falling from due to vibrations and other outside forces.  The wire itself applies tension and holds objects in place when twisted around itself. Then it is connected to the fastener and secured on one end and an anchor point. The wire will remain twisted and prevent unraveling, acting as a positive locking device and keeping fasteners from loosening.
Malin Co. is a leading manufacturer of stainless steel safety wire for a wide variety of industrial applications. In fact, Malin Co. has been manufacturing high-quality wire products since 1884. Today, they supply many distinguished companies in various high-profile industries including aerospace, milling, medicine, publishing, and more! So, you can trust Malin Co. to deliver the high-quality safety wire products you need.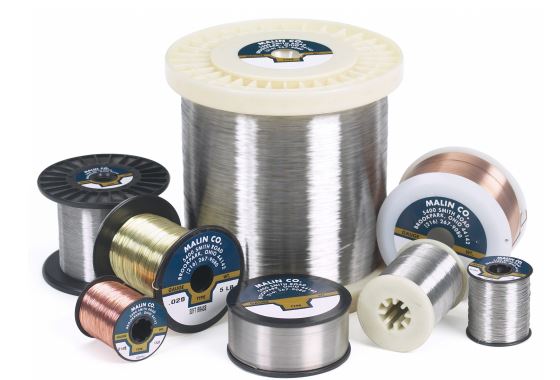 Why choose Malin Co. over other stainless steel wire suppliers?
Regardless of the type of wire products you are searching for, you need the manufacturing experience and product quality of a proven stainless steel safety wire company. In comparison to other wire suppliers, Malin Co. offers a variety of unique advantages. So, you always receive wire that meets and exceeds your quality and performance requirements.
Expert designers and engineers
When you choose Malin Co., you get to work directly with some of the industry's best designers and engineers. Malin's team offers the qualifications and knowledge necessary for creating the quality wire solutions you need. In fact, their staff will collaborate with you to ensure they meet your needs at each step of the manufacturing process.
Versatility and industry compatibility
Finding the best wire supplier for your application also requires that the manufacturer be compatible with your industry. Thankfully, Malin Co. has the versatility necessary for fulfilling the requirements of virtually any industry and application.
If you are unsure if Malin Co. is right for your application, get in contact with them directly and visit their facility. As a result, you will be able to get a full understanding of their design processes, manufacturing capabilities, machinery, and communication methods.
Reliable communication
Communication is a central part of ensuring you receive the best possible wire products for your application. Malin Co. prides itself on offering quick and easy access to its technical staff and quality assurance team. Their team is always readily available for phone calls and email correspondence. So, you can keep tabs on your project without having to jump through hoops.
If you check out the reviews of other stainless steel safety wire suppliers, you will see many low-star reviews that reference poor communication practices. With Malin Co., however, you can expect reliable and attentive communication from a team of industry experts.
Exclusive lockwire dispensing canisters
Malin's exclusive safety wire recyclable dispensing canisters are made of high-density polyethylene. Unlike standard paper canisters, Malin's dispensers will not degrade and keep your wire free of grease and other corrosive materials. These canisters are color-coded for easy identification of your wire collection ensuring you are applying the correct wiring when in use.
Malin Co. has been a leading supplier of stainless steel wire products for many years. In fact, they have been manufacturing safety wire and other wire products since 1884. Malin Co. considers wire quality and customer satisfaction to be central parts of their business. As a result, they have earned their certification ISO 9001:2015 with precision quality control and friendly customer service.
Malin Co. set itself apart by not only offering superior quality in products and services but also by offering a wider range of materials. You can choose from annealed brass wire, black oil tempered wire, soft bare single strand wire, soft tinned copper wire, and many other options! Furthermore, Malin Co. offers excellent material testing capabilities with advanced X-ray fluorescence (XRF) testing. As a result, they can determine material compositions for a full range of metals with incredible precision.
Their state-of-the-art testing equipment also allows them to perform a more thorough analysis of all materials. So, they can more accurately satisfy your application's unique requirements. In fact, Malin Co. customers receive non-destructive testing services with precise verification of steel grades and identification of present trace alloys.
If you are looking for wholesale wire suppliers near you, contact Malin Co. today or visit their website at https://malinco.com/.