Used Cranes For Sale Through Tom Kasner Crane Sales
The Best Used Cranes For Sale
When looking for used cranes for sale, be sure to buy from a reputable supplier that can ensure you have effective equipment on hand without sacrificing quality. Above all, be sure to keep safety considerations in mind. Remind yourself to take your time and to review all company safety procedures. You should also ensure only certified workers operate the equipment. 
By taking your time and asking thorough questions to companies, you find the best, safest, used cranes for sale.
What Does Tom Kasner Crane Sales Offer?
For nearly two decades, Tom Kasner Crane Sales has offered a variety of used cranes for sale. Their inventory ranges from hydraulic truck cranes to tower cranes and more. 
If you're wondering which type of crane is best for your project, consider a few types of common cranes. For example, the all-terrain cranes are a mobile crane that combines the ability of truck cranes and rough terrain cranes. When your project requires you to travel on public roads and rougher terrain, this is the crane you need. All-terrain cranes have more tires that offer increased maneuverability and stability. And, when you rent from Tom Kasner Crane Sales, you'll have a wide selection of all-terrain cranes to choose from.
Your project may benefit more from the usage of a carry deck crane. These cranes are well known for their versatility, and they add something important to almost any jobs site. Carry deck cranes can maneuver in tight spaces while clearing overhead obstacles, which makes them a stand out crane compared to others. Not only this, but they can transport loads over short distances. This means they can transport heavy materials through tight spaces that other cranes and machines simply cannot.
Add a used carry deck crane to your next project when you go with Tom Kasner Crane Sales. 
Used Cranes For Sale From Different Manufacturers
If you're familiar with the crane and heavy equipment industry, you may be curious as to which manufacturers Tom Kasner carries. Luckily, with such a diverse inventory, you'll likely find a crane you can use at Tom Kasner Crane Sales. And, if you don't find something, you can always give Tom a call to discuss your needs at 330-670-0430. 
So what manufacturers does this company carry? The list includes: American, Grove, Liebherr, Link-Belt, Manitowoc, Terex, Demag, Lorain, Peiner, and more. These are acclaimed brands that have served industries for years as trusted providers. Having so many brand-name companies is part of what makes Tom Kasner Crane Sales one of the top places to go for used cranes for sale.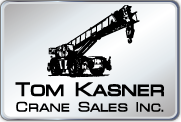 About Tom Kasner Crane Sales Inc.
Tom Kasner Crane Sales Inc. has served the crane and equipment industry for nearly 2 decades. Tom Kasner himself has 34 years of experience in the industry and is passionate about helping others find the right solution for their specific project needs.
The priority of Tom Kasner Crane Sales Inc. is to keep both buyer and seller happy. It's what's made this business so successful in the crane marketing industry. In addition to having used cranes for sale, Tom Kasner also allows people to try and sell their cranes to the company. You can either send over a note about the crane you want to sell, or you can check the company's website and see the list of cranes they are seeking. 
In addition, if you need to use crane brokering, this company is your answer. Tom can use his experience and marketing connections to save you time and advertising costs. He evaluates and markets cranes through his industry contacts, and can provide an optimal experience for those looking to sell their cranes.
Want to learn more about Tom Kasner Crane Sales used cranes for sale? Or looking to sell a crane? Visit https://tkcranes.com/ today.